Blue-headed Vireo
Vireo solitarius
Order: Passeriformes — Family: Vireonidae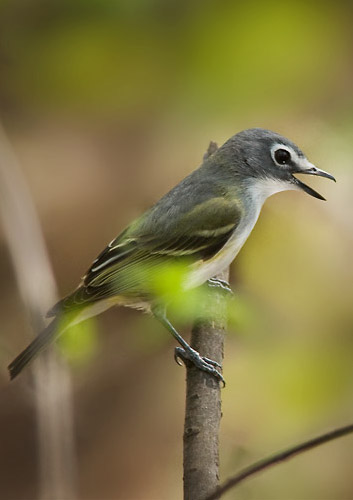 Identification
Its blue-gray head, bold white spectacles, snow-white throat, olive back and bright yellow sides and flanks are all good field marks, and in combination, make it a very handsome bird. Until recently it was one of three species which were lumped together as Solitary Vireo but the Blue-headed Vireo is the most colorful and easy to identity of the group.
Voice
Its song is a slow series of whistled phrases, with short pauses, and is very similar to that of the Red-eyed and Yellow-throated Vireos. Intermediate between the two, it is more rapid than the Yellow-throated's song, and slower and more musical than that of the Red-eyed. It also varies the order of the phrases, making its frequent singing less monotonous than other vireos.
Migration
The spring migration is slightly earlier than that of other vireos and is mostly complete by late April. Fall movement is from mid-September through October. Winters from the southeastern United States to northern Nicaragua.
Habitat
Inhabits moist coniferous and mixed woodlands.
Food
Almost entirely insects in summer. Feeds on insects and berries in winter.
Population trends
Is expanding its breeding range southward and is increasing in numbers.
Where in US
Common across much of the northern U.S. Winters from the southeastern United States to northern Nicaragua.
Nests
Nests in deciduous or mixed woodlands, usually 6-15 feet up in a tree or shrub, but as low as 3 feet, and as high as 40 feet. The nest consists of a cup of plant fibers, bark strips, grass, rootlets, moss, lichen and plant down, bonded together with spiders webs and lined with moss, hair or finer grasses. The nest is suspended in a horizontal fork.
Eggs
Usually 4 eggs, sometimes 3 or 5, whitish in color, speckled or spotted with brown or black, probably double-brooded.
Powered by